I love coffee. And I also love meeting up with friends for a "fika" (a Swedish word) to share some time and thoughts with a cup of coffee in my hand. When I heard about the Ultimate Coffee Date link-up from my fellow SweatPink sisters I couldn't not join in the fun.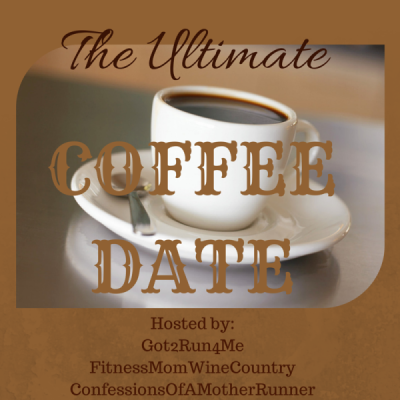 So, grab a cup of coffee and join me for this Ultimate Coffee Date!
I am having my usual French Press coffee made of fresh ground Mexican Highland beans. Iced with a tad of sugar in the raw and with a bit of hemp milk.
If we were having coffee, I would start out by telling you that I'm happy to see you and I would ask you how things are going. Is life treating you well? I would tell you about my last few weeks including meeting my father-in-law for the first time (he was visiting from Alaska for about a week), watching the PGA Pro-Am golf on Kona side and the well deserved mini vacation my husband and I were lucky to have (and enjoy). I would tell you that I got C to play tennis with me AND go to the gym with me, and how extremely HAPPY it made me.  I would ask you if your girlfriend/boyfriend/husband/wife are joining you for workouts?
If we were having coffee I would show you my new bright and happy shoes and I would ask if you have any new favorite running (or non-running) gear or gadgets that make you happy. I know, it might seem shallow to get genuinely happy from things like that but.. You know, I love my running gear and a pair of bright running shoes?! Cannot NOT love that!
If we were having coffee I would suggest we would take our coffee with us (if there was any of it left by now..) and go for a walk, because walking is great. I love running, but I've loved walking waaaay longer than I have been in love with running. Do you enjoy going for walks? Alone, in company of others, with the dogs? Do you have a favorite walk? I enjoy solo walks and walks in company of friends/pets just as much, and my favorite walk is probably along the waters of Stockholm. There are some amazing loooong walks to be had in that city (I wish I could show you!).
If we were having coffee (and a walk?), I would tell you that you are awesome! That you and the rest of my blog/twitter/instagram followers friends have brought so much joy to my life. I would tell you that whatever you do, don't ever stop being yourself and being proud of who you are and what you do. Because, honesty.. Don't we all need that little reminder sometimes? And I mean it. I really do.
If we were having coffee I would probably mention that lately I have been homesick a lot. I miss my brothers and my parents so much, I can hardly describe it in words. My brothers are 19 and 16 and they are the best (obviously a bit biased). I would proudly tell you about how the older one won the award "Rookie of the Year" in last year's Swedish Skateboard Awards, and that this year my younger brother is nominated. I would VERY likely ask you if you could do me the favor and vote for him? He's worth the win!
To vote for him
1. Visit http://www.svenskaskateboardgalan.se
2. Click the heart.
3. Choose Sondre Mortensen under "Dr. Zipe Årets Nykomling"
4. Enter your Name (namn in Swedish) and email, then submit your vote.
If we were having coffee I would probably be out of coffee by now, and I would ask you if you'd like to go for seconds? I would also ask if you'd like to go for a run for me tomorrow, on #SundayRunday. I'm not planning on going very far, I just plan on running to smile. To shake off some worries and re-focus.